New Zealand Itineraries - About Rob and Jana Bowler
Rob and Jana Bowler are experts on New Zealand travel because they have lived in and explored this remarkable country for over 35 years.
Rob studied and produced an extensive research paper on the early history of New Zealand as a visiting scholar at the University of Canterbury. An expert fly fisherman, he is co-author of Brown Trout Heaven and Fly Fishing New Zealand's South Island, and co-producer of the action filled DVD "Fly Fishing New Zealand's South Island". He has also written a number of magazine articles on New Zealand fly fishing and consulted with the New Zealand Fish and Game Council on catch and release. Rob and Jana have sought out expert guides for every fishing district on both the North and South Islands.
Rob and Jana Bowler have been avid fly fishers in New Zealand for over 35 years and their experience and selection of professional guiding services provide you with excellent fly fishing opportunities. Rob and Jana are co-authors of Brown Trout Heaven which is loaded with over 200 color photographs and essential angling information from where to fish to flies and gear. Our guides cover all districts on both the North and South Islands and we can arrange sporting lodges, bed and breakfasts, hotels, and unique accommodation. Fly out and rafting options can be included. When ESPN2 wanted to film fly fishing in New Zealand, they selected Rob and Jana to plan and coordinate their "In Search of Fly Water" programs.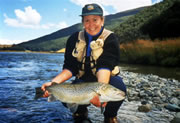 Jana is an avid fly fisher and holds the distinction of being the only woman ever awarded the Southland Fly Fishing Club's President's Cup for the largest brown trout of the season. As a designer for commercial architecture since 1970, she is a consultant for luxury accommodation and delights in seeking out architecturally significant buildings, impeccable gardens, and mouth-watering cuisine for travel clients.
At New Zealand Itineraries, it is our priority to provide you with an enjoyable holiday plan and itinerary. We represent Luxury and Sporting Lodges, Country Lodges, City Hotels, Unique Inns, Bed and Breakfasts, and renovated Country Homesteads. We can suggest accommodation to suit your vacation expectations and budget. Since we spend so much time traveling in New Zealand, we can keep up to date with new accommodation and suggest established as well as new restaurants. Many wineries and vineyards are situated in Hawke's Bay, Martinborough, Nelson, Marlborough, and Queenstown areas and we can help you sort out the ones that appeal to you.
Our complete travel services can also include airline bookings, rental vehicles, ferry, and rail reservations.
Cancellations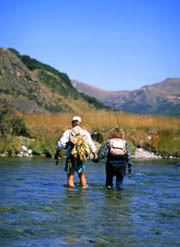 Rob and Jana Bowler act only as agents for the transportation companies, accommodation, car operators, and all other contractors and suppliers and therefore disclaim any responsibility or liability for any loss, damage, accident, change of schedule, or other irregularities caused by or arising from circumstances beyond our control.
In addition to airline cancellation penalties, all cancellations for any reason whatsoever will be subject to a $150 per person cancellation fee. Cancellation from 104-61 days prior to departure will result in forfeiture of 10% of the entire cost of the trip per person; 60-31 days, 30%, 30-16 days, 75%. Cancellation from 15 days up to the time of departure will result in forfeiture of the entire cost of the trip.
All group and FIT travelers, we strongly recommend you purchase a comprehensive travel insurance policy of your choice.