New Zealand Itineraries - Gardens
Gardens
One of the best ways to see New Zealand and its gardens is with a group. Travel by luxury coach, taste crisp New Zealand wines while strolling through award wining private gardens. View historic buildings combined with classical and modern public gardens, and delight in the descriptions and personal dialogue of New Zealand horticulturalists and professional gardeners. If you prefer a private tour we can arrange a self guided or personalized garden tour for you. A trip to New Zealand should include unique places and incredible sights such as Stewart Island with its unique ancient Podocarp forests, alpine sea level plants and unique bird life or Milford or Doubtful Sound aboard an overnight cruise ship, to soak up the scenery and secluded silence of the World Heritage Fiordland National Park. Talk with local gardeners over brunch at one of our favorite lodges, enjoy an evening barbeque on a sheep farm, and learn about New Zealand wines while visiting with the local vintners. Join us for our next group garden tour, much more than just gardens!
VIEW FULL SLIDESHOW
NEW ZEALAND GARDENS - SUGGESTED ITINERARY
Join New Zealand botanists, horticulturalists, and professional gardeners on an excursion to New Zealand's Gardens. We will tour ancient forests as well as urban and country gardens with unique and spectacular landscaping.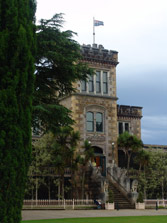 Day 1, 2 and 3 - Auckland
After departure from Los Angeles , you arrive in Auckland in the early morning. Tour with a horticulturalist and a professional gardener through an award-winning garden where you will also enjoy a catered New Zealand lunch. Then enjoy a short city tour around Auckland and transfer to your hotel. Travel by luxury coach for the next two days to gardens in and around Auckland. The city is noted for its volcanic geological history, it's Maori culture, fine museums, private gardens, and historic buildings.
Day 3, 4 and 5 - Christchurch
Fly from Auckland to Christchurch, the "Garden City" of New Zealand. On arrival, walk through beautiful city gardens. You will be situated in the city centre walking distance to the downtown Historic District including Cathedral Square, the Art Centre, museums, numerous restaurants, and other city sites. Enjoy a free day to explore Christchurch, with its lovely botanical and city gardens, historic buildings, and museums. On day three, join horticulturalists and architects on the coast of the Banks Peninsula and visit architecturally designed private gardens and Akaroa, where we will stroll through the private cottage rose gardens and discuss the history of this small French settlement.
Day 6 and 7 - Dunedin
Visit private country gardens along the east coast of the South Island, with morning tea and lunch at two gardens. Arrive late afternoon in Dunedin "The Scot's City" situated on the hills overlooking the bay. Participate in an educational tour of the first New Zealand botanical garden, the Royal Albatross Colony including lunch, and a self guided tour of Larnach Castle, New Zealand's only castle, and gardens.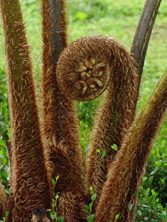 Day 8 and 9 - Stewart Island / Invercargill
Travel through the Southland District with visits to several country gardens and lunch at a private garden. Early the next morning departure by ferry to Stewart Island to hike with a botanist and birding guide through a unique ancient forest. You will encounter native trees including miro, totara, rimu, and rata, several types of small orchids, ferns, and an array of native birds.
Day 10 and 11 - Doubtful Sound Overnight Nature Cruise
Travel to Manapouri where you will board the water taxi for trip across the lake and continue over the scenic Wilmont pass through dense rain forest to board the overnight vessel for a cruise through the sounds. The vessel anchors overnight in one of Doubtful Sound's hidden arms where you can enjoy a sea kayak trip along the shore in the late afternoon or travel by tender boat with educational narrative about native plants and wildlife along the shoreline. We may also see penguins, dolphins, and fur seals.
Day 12 and 13 - Queenstown
Return to Manapouri and continue to Queenstown with lunch at a private garden, whose owner raises flowers for the export market. Enjoy Queenstown for the rest of the day on your own. We suggest, as optional extras, Dart River jet boating, a great way to see Lord of the Rings sites, Earnslaw steamer across Lake Wakitipu to see sheep sheering and farm activities, helicopter hiking, scenic flights (helicopter and fixed wing) over Mt. Aspiring, Mt. Cook, and the West Coast glaciers, day spa, golf, etc. In the afternoon on our last full day, we will tour Arrowtown, an historic mining town, and visit several wineries near Queenstown.
Day 14 - Queenstown / Auckland / USA
Spend the morning in Queenstown and fly to Auckland to board your evening flight to the USA.