New Zealand Itineraries - Birding
Birding
New Zealand is one of the most isolated land areas in the world. The absence of mammals favored the evolution of a myriad of bird species, many of them exclusively terrestrial. The introduction of mammals has adversely affected the birdlife of New Zealand, but persistent efforts have been made to preserve habitat, remove predators, and protect rare species. Birders can add unique New Zealand species to their "life list" with the help of our guides or on self-guided tours. More than a third of New Zealand is protected in conservation reserves and in National Parks and the scenery is spectacular. Add a visit to the Royal Albatross Centre near Dunedin, ferry or fly to Stewart Island "the birding capital of New Zealand" for a hike in the ancient forests, or take an overnight cruise on the pristine waters of Doubtful or Milford Sound to see penguins and other birds, fur seals, and dolphins.
NEW ZEALAND BIRDING and SELF-GUIDED ITINERARY
Join New Zealand botanists and professional birding guides on a group or individually personalized excursion to New Zealand. Tour ancient forests, remote islands, and unique bird colonies throughout the North and South Islands. Many other birding areas including the West Coast of the South Island can be easily added to your self guided or partially guided tour.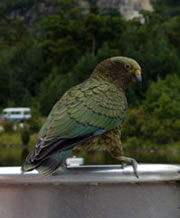 Day 1, 2, and 3 - Auckland
After departure from Los Angeles on day one, you arrive in Auckland in the early morning. Tour Auckland with local day trips to Tiritiri Matangi northeast of Auckland and Freeflight Santuary near Hamilton. These locations are open sanctuaries where you may have the opportunity to see takahe, saddleback, kakariki, kokako, whiteheads, little spotted kiwi, stichbirds, and brown teal. These areas are also well known for their conservation of rare and endangered bird species.
Day 4 and 5 - Wellington
Fly from Auckland to Wellington, the Capitol of New Zealand. On arrival, walk through beautiful city gardens. You will be situated in the city centre walking distance to the downtown Historic District including Government buildings, museums, numerous restaurants, and other city sites. Enjoy a free afternoon to explore Wellington, with its lovely botanical and city gardens, historic buildings, and museums. On day five tour Kapiti Island, the only accessible nature reserve free of any introduced predators in the central region of New Zealand. The regeneration and consequent bird population explosion creates a unique birding opportunity.
Day 6 and 7 - Christchurch
Fly from Wellington to Christchurch, "The Garden City" of New Zealand. Enjoy the afternoon to explore the city. On day seven, tour the coastal regions and small towns on Banks Peninsula. Bird species you may encounter include white flippered blue penguin, cormorants, gulls, shearwater, oystercatchers, terns, paradise ducks and albatross.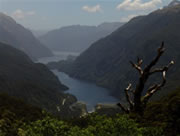 Day 8 and 9 - Dunedin
Tour along the east coast of the South Island, to view coastal birds with lunch at a private garden. Arrive late afternoon in Dunedin "The Scot's City" situated on the hills overlooking the bay. Participate in an educational tour of the first New Zealand botanical garden and aviary, the Royal Albatross Colony including lunch, and a self guided tour of Larnach Castle, New Zealand's only castle, and gardens. Optional evening tour to coastal Penquin Colony.
Day 10 and 11 - Stewart Island / Invercargill
Travel through the Catlins region viewing interesting shore birds and sites along the way. Early the next morning departure by ferry to Stewart Island to hike with a botanist and birding guide through a unique ancient forest. Where you will encounter an array of native birds including kaka, weka, and saddleback.
Day 12 - Doubtful Sound Overnight Nature Cruise
Travel to Manapouri where you will board the water taxi for trip across the lake and continue over the scenic Wilmont pass through dense rain forest to board the overnight vessel for a cruise through the sounds. The vessel anchors overnight in one of Doubtful Sound's hidden arms where you can enjoy a sea kayak trip along the shore in the late afternoon or travel by tender boat with educational narrative about native plants and birdlife along the shoreline. We may also see penguins, dolphins, fur seals, and albatross.
January 13 and 14 - Queenstown
Return to Manapouri and continue to Queenstown. Enjoy the afternoon and next day on your own. We suggest, as optional extras, Dart River jet boating, a great way to see Lord of the Rings sites, Earnslaw steamer across Lake Wakitipu to see sheep sheering and farm activities, helicopter hiking, scenic flights (helicopter and fixed wing) over Mt. Aspiring, Mt. Cook, and the West Coast glaciers, day spa, golf, wine tours, etc.
Day 15 - Queenstown / Auckland / USA
Spend the morning in Queenstown and fly to Auckland to board your evening flight to the USA.